Your Journey to TOEFL 110+ Starts Here...
TOEFL Offline Private Group Coaching
Only FOUR students in a Batch
Highly Experienced Faculty
On-the-spot Doubt Solving
Reliable Study Material & Mock Tests
Group Coaching & Exclusive Individual Training Available
Weekends and Weekdays Batches
Format of The New TOEFL
The TOEFL iBT is divided into four sections:
Time Limit
Question
1. Reading
35 Minutes
20 Questions From Two Passages
2. Listening
36 Minutes
28 Questions Based On Three Lectures & Two Conversations
3. Speaking
20 minutes
Two Independent and four Integrated Tasks
4. Writing
30 minutes
An Integrated Task & An Academic Discussion Task
Test Duration: 120 Minutes Approx., No Break
Score:

  Maximum 120 (30 marks each section)
Our TOEFL Training Program – Offline
Location
Evershine Nagar (Near Valnai Metro Station), Malad West, Mumbai
Duration

Regular Course – 6 to 8 weeks
Intensive Crash Course-3 to 4 weeks

Schedule

Weekends and Weekdays Batches Available
Normal Course – twice a week, two hours each session
Intensive Crash Course – four times a week, two hours each session
Timings – Flexible

Batch Size
Two Students Only
Study Material
High Scoring and authentic Study Material is shared with the Students, which includes ETS Official Guides-Simulated Tests
Highest Score in TOEFL
117/ 120
Our Students' Testimonials
Archit Datar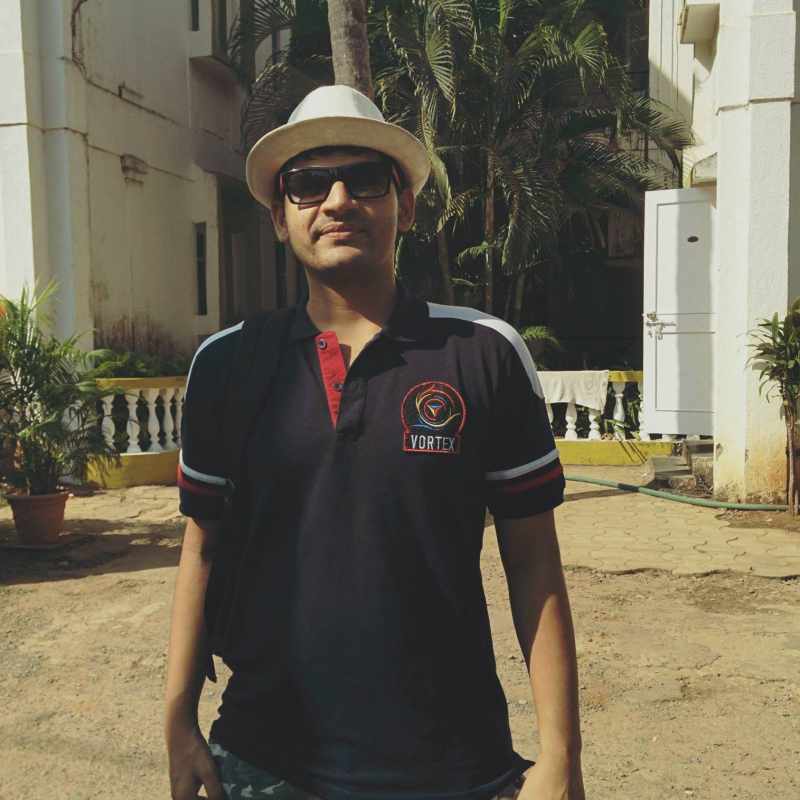 TOEFL Score: 117 & GRE Score: 326
"I Joined Global Course for TOEFL. In the beginning, I was very apprehensive about the whole thing. Also, I had heard that TOEFL ibt-Concepts words are very difficult. But when Amar sir started my coaching, I learned some very good methods to learn new words and to tackle hard ibt-Concepts passages. The tips given by sir were very handy for me. Amar sir is very friendly and supportive. Because of his pro-active approach, I did not hesitate to clear even the smallest of doubts."
Amarjiit Pandde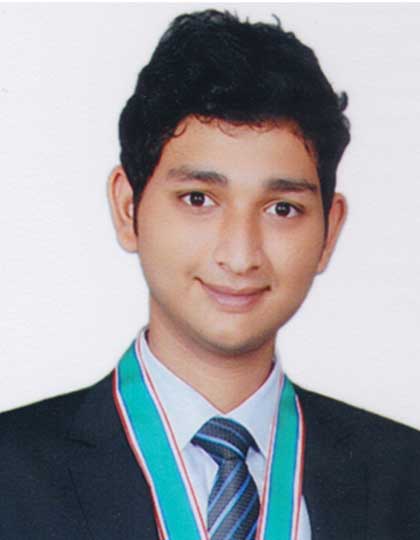 TOEFL Score: 115 & SAT Score: 1460
My experience with Global Course was Amazing. Amar Sir trained me for SAT and TOEFL. Also the teaching approach was customised to my pace of learning. Amar sir is very supportive and has in-depth knowledge of the subject.
Dr. Queenie Dias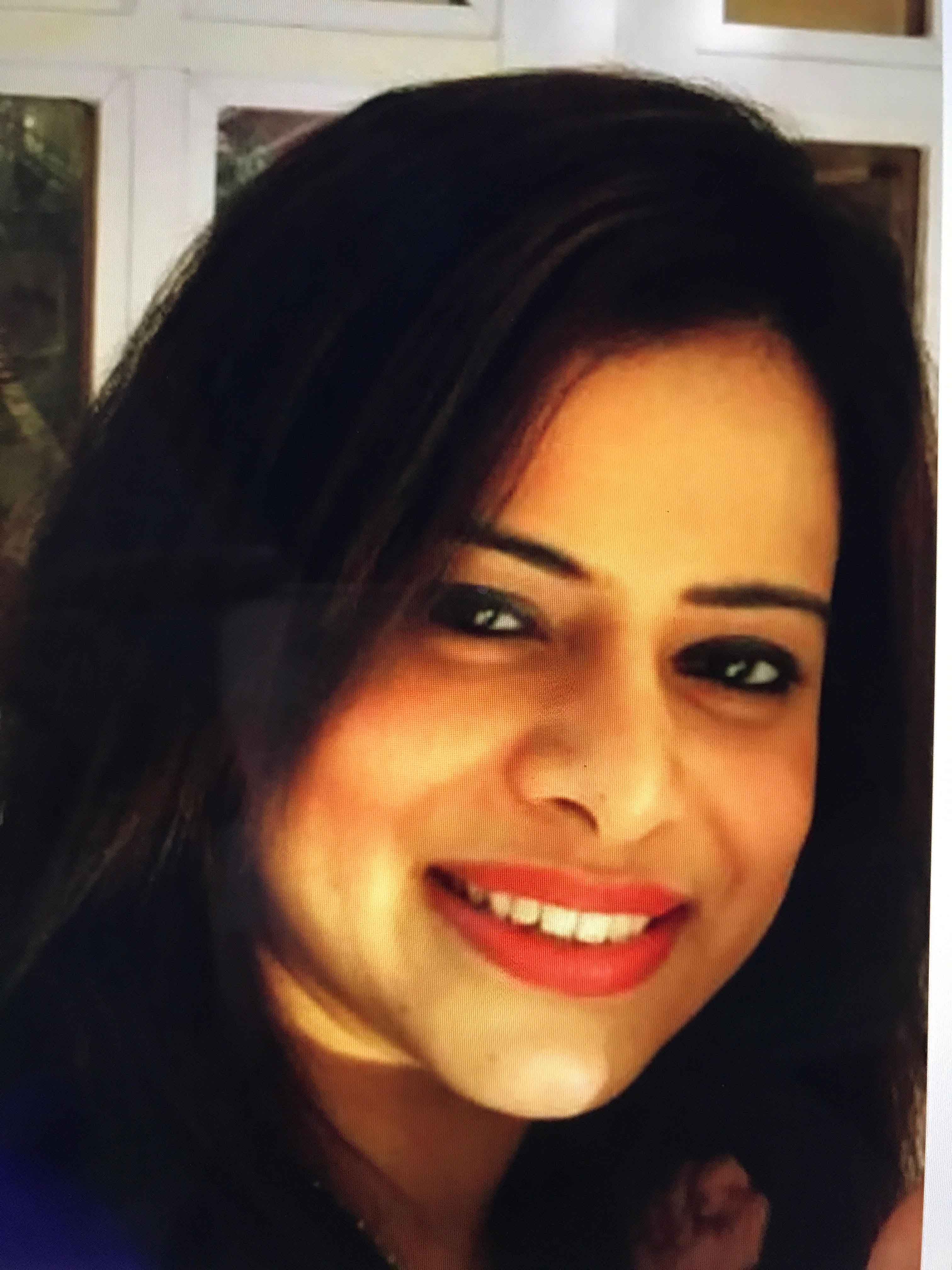 TOEFL Score: 113, Surgical Training in The USA
"I am Dr. Queenie Dias and I scored 113 in TOEFL. Sincere thanks to Amar Singh sir from Global Course for training me in 3 weeks for the exam. The study material and 10 mock tests helped in a great way to achieve the score."
Sashwat Singh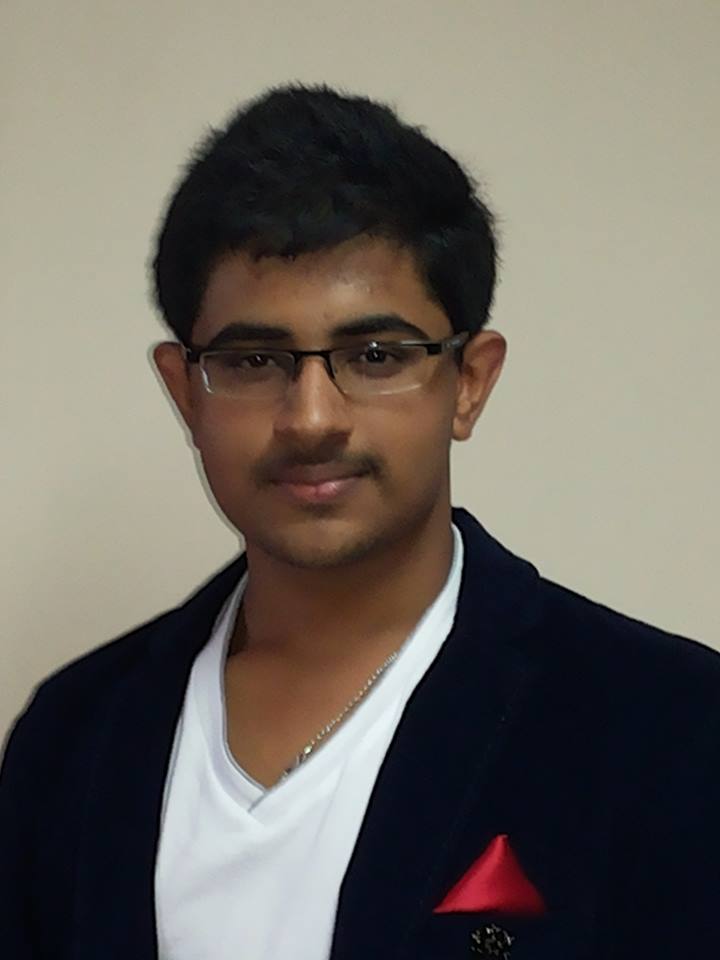 TOEFL Score: 112, studying engineering at Virginia Tech University
First of all I want to thank Global Course and Amar sir for continuous support extended to me. Amar sir's approach and experience is precious. The way he makes all the topics easy to understand was quite helpful to me.
Recent TOEFL Scores:
| | | | |
| --- | --- | --- | --- |
| Ojasvee Gupa | 110 | Brendan Vaz | 102 |
| Palak Somani | 109 | Rishabh Aggarwal | 101 |
| Ravi Agrawal | 108 | Saurabh Kajale | 99 |
| Raj Gandhi | 107 | Jaspreet Singh | 98 |
| Sana Shaikh | 105 | Arnav Gupta | 96 |
Key Features of Our TOEFL Prep Course
Only Four Students Per Batch
24x7 support
Unlimited one-to one Doubt Solving Sessions
Exhaustive Study Material Including TOEFL Official Guides
High Scoring Tips & Techniques
Clear Concepts
Individual Attention
Highly Experienced Trainers
20+ Full length tests
TOEFL ibt-Concepts and Strategies
We discuss rapid reading skills which help you answer the Reading Comprehension questions within time limits and with high accuracy. We discuss almost 10 types of questions asked in TOEFL. Also the strategies to answer those types of question are discussed and some Reading exercises are done implementing those strategies and techniques. Finally, we do some simulated Reading tests including from ETS Official Guides.
We discuss advance listening skills and some very basic techniques to tackle Listening questions. We do a few actual Listening exercises to understand the 7-8 types of listening questions. Finally, we do full Listening exercises and Simulated Listening Tests including ETS Official Guides for TOEFL ibt.
We discuss very high scoring templates for both the Writing Tasks i.e. Integrated Writing and Independent Writing. We dissect some practice exercises and discuss in detail the numbers of paragraphs you should write in each of the tasks among other things. We also discuss Useful Essay Words and Phrases which are important to include and in your writings. We discuss very sophisticated and effective structures for TOEFL Writing tasks so that you may get a good score.
Doing well in TOEFL Speaking section also is very important for doing well in TOEFL ibt. We discuss all the three types of Speaking questions asked in TOEFL i.e. Independent Speak, Integrated Speaking type-1 and Integrated Speaking type-2. We teach you how to include some effective templates, words and phrases which make you score high in the Speaking section. Finally, we do some full simulated mock tests to gauge your skills and improve them.
Books Used For TOEFL
Delta's Book of TOEFL ibt
ETS Official Guide-Volume-1
ETS Official Guide-Volume-2
ETS Official Guide-Volume-3
6 Practice Tests for TOEFL ibt by Delta Etc...
Why Global Course?
It is our responsibility to make our students score beyond their limits. We do so by pushing the students' limits. We monitor the students' progress throughout the training period. We give them periodical tests to check their progress. We analyse the students' weak areas and work on those areas. The Trainers and the counsellors always remain with our students i.e. in the classes, on skype, e-mail, phone, etc. The students can discuss their doubts on our blog also. So, the whole team of Global Course is working for our precious students...
The Trainers' Profile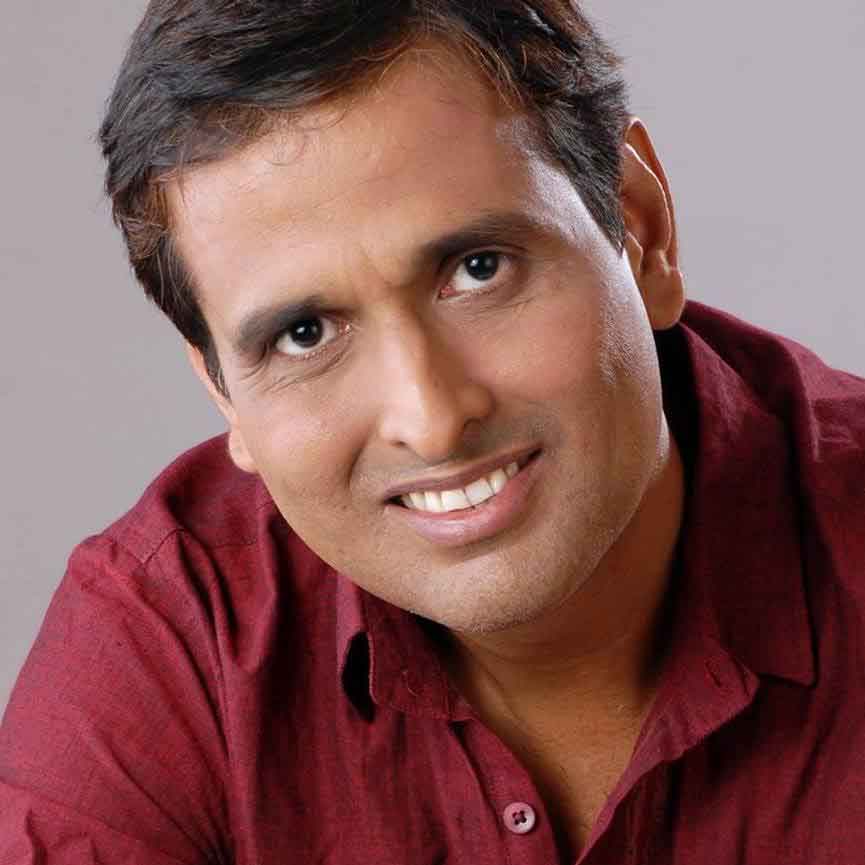 The training is provided by very dedicated team of trainers headed by Mr. Amar Singh who hold his forte in TOEFL Training. He has a long experience of training of almost 20 years now and has an excellent track record. Training. Our students have scored up to 117 in TOEFL.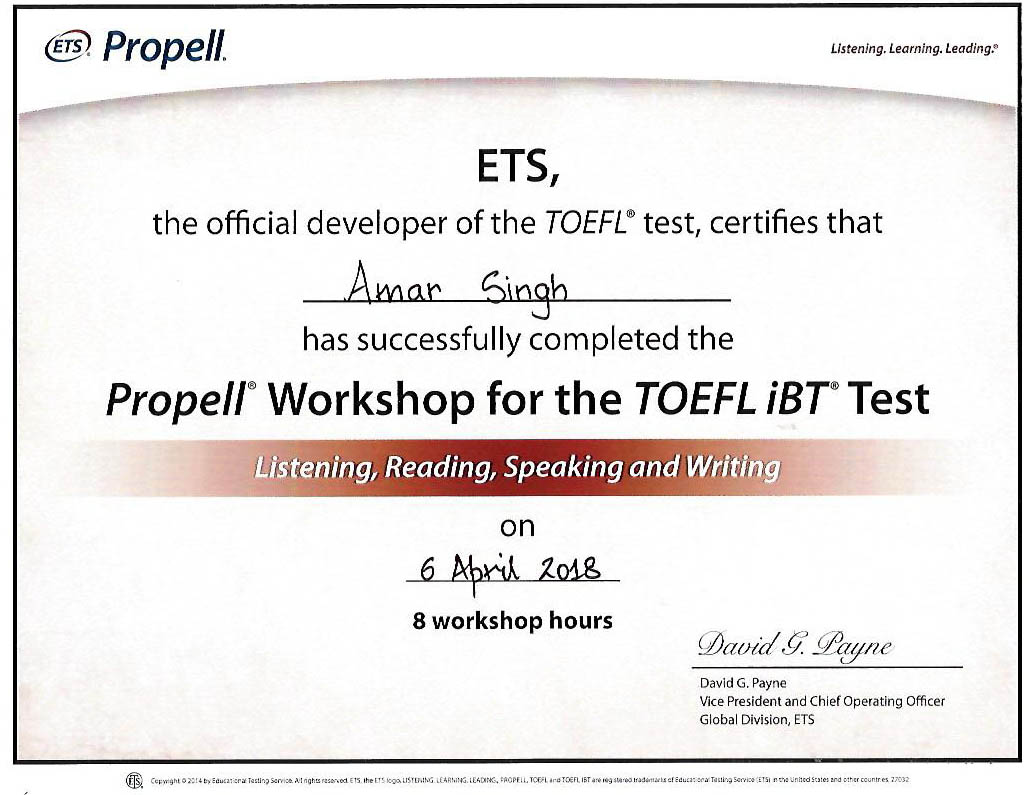 TOEFL Certificate
  All About TOEFL-Graduate Management Admission Test
Validity of TOEFL Score: Two Years
Test Fee of TOEFL: US$ 180
Reschedule up to 7 days Before the Test: US$ 60
Late Registration for the Test: US$ 40
Where to Register: www.ets.org
More About Our TOEFL Training Program
TOEFL i.e. Test of English as a Foreign Language is a major test that the candidates aspiring to pursue their higher education in an English speaking country, such as The USA, etc. We provide TOEFL offline group and individual coaching at Malad West, Mumbai, India. At Global Course, we prepare students for TOEFL exam in small batches of four students only, offline and online each. Since the group size is small, we are able to ensure individual attention and groom the students as per their abilities, ensuring maximum output. Our track record of TOEFL group classes has been encouraging. Our students have been able to score up to 117 in TOEFL exam.
The Head Trainer at Global Course, Mr. Amar Singh, has a teaching experience of more than 20 years. Initially, we stress on concept development. Gradually, we ask our students to do exercises with higher difficulty levels. In the end, minimum 10 mock tests are done. These tests are evaluated, reviewed and doubts are cleared. Our TOEFL group coaching is done at a normal pace. However, we arrange intensive crash course as when required. At a normal pace, it takes six weeks to complete TOEFL coaching, but we complete it in even two weeks if the need arises. At Global Course, we use authentic study material, including The Official Guides released by ETS, i.e. Education Testing Service.
TOEFL i.e. Test of English as a Foreign Language is world renowned test required to be taken by the candidates desirous of going mainly to The USA or The UK. The TOEFL is conducted by ETS-Education Testing Services. The test is conducted over 50 times every year. You can take is as many times as you want, but you cannot take TOEFL more than once in a 12-day period.